News
Latest updates from the campaign:
Tuesday, July 24, 2018 12:00 AM
---
Tuesday, May 22, 2018 12:00 AM
---
Tuesday, March 20, 2018 1:29 PM
Republican Primary Runoff
Although Jane Marie HURST has 'bragging' rights for receiving the most votes, because no Candidate for Burnet County JP#3 received a majority (over 50%) of the votes cast in the March 6, 2018 Republican Primary, a runoff election will now take place between the two candidates who received the most votes.
Primary Runoff early voting is May 14 thru 18, 2018 held at the Burnet County Courthouse in Burnet and the Courthouse Annex in Marble Falls.
Primary Runoff Election Day is May 22, 2018. The voting polls for Burnet County Precinct #3 will be:
- at the Library in Bertram, TX for voting precincts 10 & 12; and,
- at the Church of Christ in Marble Falls, TX for voting precincts 6 & 20.
Click here for more Burnet County election information.
---
Saturday, March 3, 2018 6:38 PM
campaign radio ad
---
Saturday, March 3, 2018 6:01 PM
Burnet Co. Republican Party chili cook-off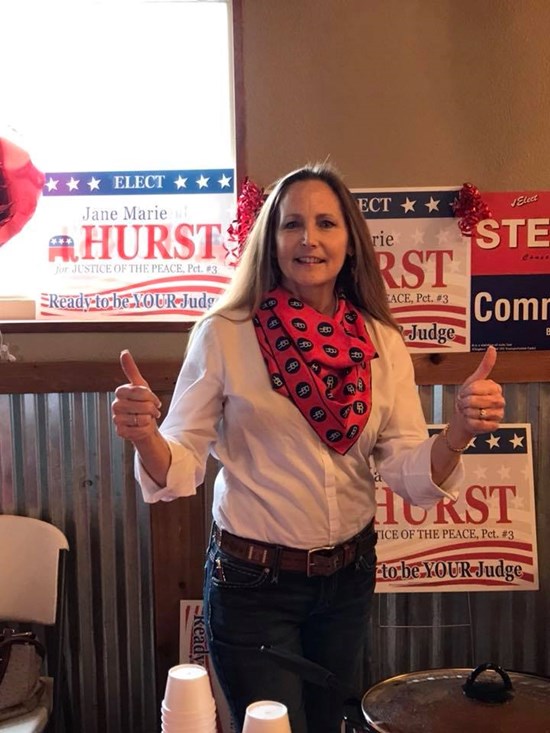 Feb. 10, 2017
Good attendance and participation at the Burnet County Republican Club Chili Cook-Off. I appreciate the support provided by many.
---
Sunday, February 4, 2018 8:12 PM
Candidate Forum
---
Wednesday, December 27, 2017 12:00 AM
---
Tuesday, December 26, 2017 12:00 AM
---
Tuesday, November 14, 2017 12:00 AM
Six file to run in March GOP primary
By Lew K. Cohn
Managing Editor
The Highlander
Six people, including three incumbents, have officially filed to run for office in Burnet County in the March 6, 2018, Republic primary.
Among those who have filed to run with Republican Chairman Donna Holland Wilcox are incumbent County Judge James Oakley; incumbent Precinct 4 County Commissioner Joe Don Dockery and incumbent Precinct 2 Justice of the Peace Lisa Whitehead.
Two individuals, Tom Stephens and Ryan Rowney, have filed to run for Precinct 2 County Commissioner, while Jane Marie Hurst has filed to run for Precinct 3 Justice of the Peace.
Saturday was the first day candidates could file to run for offices on the ballot for March 6. The filing deadline for major party candidates — and the filing deadline for independent candidates to declare their intent to run — is Monday, Dec. 11, at 6 p.m., according to the office of Texas Secretary of State Rolando Pablos.
Other offices which will be up for election next year include 424th Judicial District Judge; Burnet County Court at Law Judge; District Clerk; and County Clerk.
---
Tuesday, September 19, 2017 12:00 AM
---
Tuesday, July 25, 2017 12:00 AM
The Highland newspaper, Tuesday, July 25, 2017
---
Friday, December 9, 2016 12:00 AM
---
Saturday, May 9, 2015 12:00 AM
---
Thursday, October 9, 2014 12:00 AM
---
Monday, January 6, 2014 12:00 AM
---
Saturday, May 11, 2013 12:00 AM
---
Saturday, May 14, 2011 12:00 AM