Welcome and thank you for visiting my website.
After a lot of discussion with family and close friends, and prayer and reflection, I have decided to file to run for Justice of the Peace, Precinct #3 in Burnet County, Texas.
As the Honorable Judge Peggy Simon has announced that she will not be seeking re-election, I would like to thank her for her continued service of 27 years to our community. Judge Simon's integrity and character are second to none.
When I was elected (three times) to serve the City of Marble Falls on the City Council, I took the oath to uphold the Constitution and laws of the United States and this great State of Texas with a earnest sense of responsibility. I continue with that grave sense of accountability.
It is my desire to serve the people of Burnet County and the great State of Texas as Justice of the Peace. With your help, I can serve you, the people of our community, with impartiality and integrity in court.
As this website continues to grow, check back to stay in touch and learn more about me, my campaign and the events surrounding it.
News
Tuesday, July 24, 2018 12:00 AM
---
Tuesday, May 22, 2018 12:00 AM
---
Tuesday, March 20, 2018 1:29 PM
Republican Primary Runoff
Although Jane Marie HURST has 'bragging' rights for receiving the most votes, because no Candidate for Burnet County JP#3 received a majority (over 50%) of the votes cast in the March 6, 2018 Republican Primary, a runoff election will now take place between the two candidates who received the most votes.
Primary Runoff early voting is May 14 thru 18, 2018 held at the Burnet County Courthouse in Burnet and the Courthouse Annex in Marble Falls.
Primary Runoff Election Day is May 22, 2018. The voting polls for Burnet County Precinct #3 will be:
- at the Library in Bertram, TX for voting precincts 10 & 12; and,
- at the Church of Christ in Marble Falls, TX for voting precincts 6 & 20.
Click here for more Burnet County election information.
---
Saturday, March 3, 2018 6:38 PM
campaign radio ad
---
Saturday, March 3, 2018 6:01 PM
Burnet Co. Republican Party chili cook-off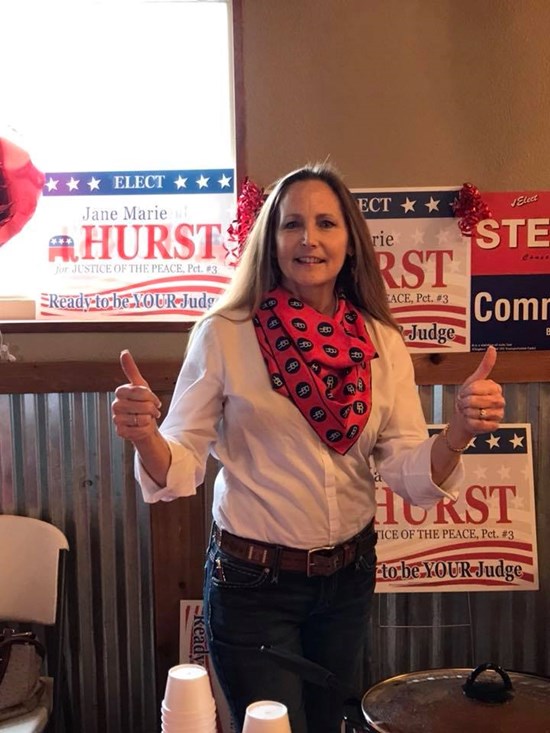 Feb. 10, 2017
Good attendance and participation at the Burnet County Republican Club Chili Cook-Off. I appreciate the support provided by many.